A1
Carbon Fiber is composed of carbon atoms by more than 90%. These carbon atoms are lighter than any metal atoms. Beautifully shining diamonds, Bincho-Charcoal, activated charcoal and graphite belong to the group of materials composed of carbon atoms, and in fact Carbon Fiber also belongs to this group and has similar properties to diamond. Diamond is the hardest and strongest material in the world, whereas it is known that graphite is soft and slippery. The reason for this difference is said to come from difference in crystal structure. Bincho-Charcoal and the like are soft and slippery because of their complicated irregular structure, whereas diamonds are very strong because of regular and orderly structure. Diamonds have 3D structure of carbon atoms, and Carbon Fibers have 2D mesh structure (like meshes of henhouses) with carbon atoms orderly lined up to fiber direction and entwine together. Furthermore, we can say that they are strong as they are manufactured very carefully lest they should have foreign materials or defects with them.
A2
Both Carbon Fiber and Charcoal belong to carbon material group. Both have crystal structure of graphite structure but are quite different in regularity and way of line up from each other. In case of Carbon Fiber, carbon atoms line up regularly and orderly, form mesh structure with layers piling up and entwining each other, whereas in case of Charcoal, this layer structure is amorphous and irregular without strong entwining each other, resulting in fragility and low strength.
Graphite belongs to the same group having advanced regular graphite structure. It is known that graphite is soft and slippery. Natural graphite is produced in China, India and other countries.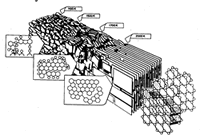 The illustration shows a descriptive picture how the molecular structure of a single thread of carbon fiber is being generated step by step under respective processing conditions of carbonization and graphitization procedures. The picture gives you a clear idea in what manner carbon atoms become regularly lined up along the longitudinal direction of a filament by means of high temperature treatments and stretching.
(Source: A. R. Bunsell, Fibre Reinforcements for Composite Materials, Amsterdam, The Netherlands: Elsevier Science Publishers B.V., 1988, p. 120.)
A4
PAN Type Carbon Fiber is an aggregation of continuous fiber (filaments), 5 – 7 micron meter in diameter with 1.74 - 1.95 g/cm3 of density, generally. Products with various filaments, such as 1K (1000 filaments), 3K (3000 filaments), 6K (6000 filaments), 12K (12000 filaments) and 24K (24000 filaments), referred to as "Regular Tow" or "Small Tow", have been used in large quantity for aircrafts and sports/recreational fields, making good use of low density, high specific tensile strength and high specific elastic modulus. PAN fibers have been undertaken a role for market expansion of carbon fibers. Large Tow, extra-40K, even though slightly lower tensile strength is mainly used for industrial fields as a relatively inexpensive material, along with Regular Tow. PAN type carbon fibers are classified into Standard Elastic Modulus Type (- 240 GPa), Intermediate Elastic Modulus Type (- 300 GPa) and High Elastic Modulus Type (350 GPa -).
Regarding Pitch Type Carbon Fiber, there are continuous type and discontinuous type, based on respective spinning process. Pitch Type Carbon Fiber is also classified into Isotropic Type (hardly-graphitizability) and Un-isotropic Type (easy-graphitizability), based on respective raw pitch. Isotropic Pitch Type Carbon Fiber is commonly a discontinuous fiber of 12 - 18 micron meter in diameter with 1.6 g/cm3 of density and has the properties of low modulus (- 40 GPa), strength and thermal conductivity due to its weak structural orientation of carbon atoms and underdeveloped graphite crystallinity. With its competitive cost, Isotropic Pitch Type Carbon Fiber is extensively applied for industrial fields due to light weight, chemical stability, heat resistance and abrasion characteristic.
On the other hand, Un-isotropic Pitch Type Carbon Fiber is sometimes referred to as "Mesophase Pitch Type Carbon Fiber". This fiber is commonly a continuous fiber (filaments) of 7 - 10 micron meter in diameter with 1.7 - 2.2 g/cm3 of density. There are 1K, 2K, 3K, 6K and 12K as filaments per tow and wide variety of elastic modulus grades from 6 GPa (the lowest) to 953 GPa (the highest), whereas PAN Type Carbon Fiber cannot achieve this range. High Elastic Modulus Type Carbon Fiber (350 GPa -) has excellent processability due to high tensile strength, more than 2.5 GPa, and has been extensively applied for industrial and sports/recreation fields utilizing higher stiffness than iron and light weight (50% or less than iron) as molded composite materials. Applications for Ultra High Elastic Modulus Type Carbon Fiber (600 GPa -) are expanding, utilizing excellent stiffness, equivalent or higher thermal conductivity to metals and lightness in weight.
Please refer to "Carbon Fiber Products and Usage" and "Major Usage".